Meet vBulleTraffic Storm
Please Click on the Tabs below to see some of the program features

Easy Boards
Management:
- Easy to Add Boards URLs from different sources.
- Edit and modify any item at any time.
- Auto Verify and Fix the added Links.
- Auto Validate and Test added Proxies with Smart Proxy Checker.
- Supports Multithreading and MultiTasking.
- Select any set of records to generate accounts.
More>>

Speedy Registration
& Activation:
- Add Multiple Accounts with 1 simple Click.
- Ability to Solve Random Questions using Smart Brain.
- Solve Questions with CloudAnswers.
- Auto Register/Activate Accounts with 2 simple clicks.
- Supports Decaptcha Services.
- Supports Multithreading and MultiTasking.
More>>

Profiles Generator
& Updater:
- Generate Multiple and Unique Profiles.
- Change Website URL, Avatar, Yahoo ID, MSN ID and Signature.
- Auto Read Board Rules, and Auto Read Forced Threads.
- Auto Post Intelligent Random Comments.
- Auto Detect Number of posts for every registered account.
- Unique Status and Errors Reports.
More>>

Intelligent Comments
Poster:
- Add any comment with the support of BBCodes and Spintax.
- Ability to Post to ANY Forum and Topic.
- Supports 2 Posting Modes (Smart and Normal Modes).
- Now you can Grab Comments from other boards.
- Send to Multiple Boards/Forums from different Accounts.
- Last Post Checker.
More>>

Intelligent Topics
Poster:
- Add as many Threads as you want with the support of BBCodes.
- Ability to Create Topics at ANY opened Forum/Subforum.
- Ability to Post Topics on Specific Forums based on keyword.
- Supports Captcha custom implementations.
- Ability to Send to Multiple Boards/Forums from different Accounts.
- Grab Topics from any forum/board using Topics Grabber.
More>>

Intelligent PMs
Poster:
- Add PMs with the support of BBCodes and Spuntax.
- Ability to send PMs to Active users or to Random users.
- Auto BCC detection.
- Threads and Package Parallelization up 2 (500) Threads.
- Ability to Send PMs from different Accounts on same board.
- Easy data management tools.
More>>

More Options:
- Save and Load different projects.
- Multithreading support (up to 50 threads per task).
- Multitasking support (able to use all posters and functions at same time).
- Supports Unicode.
- Powerful Settings.
- And many more.
More>>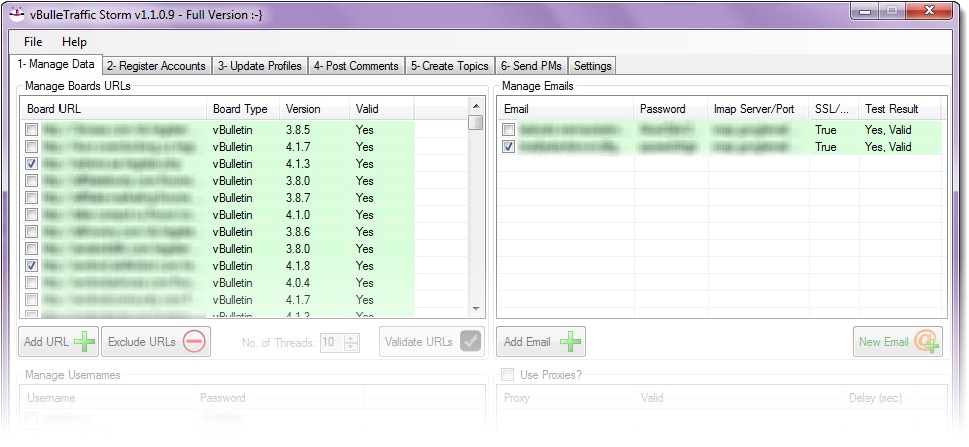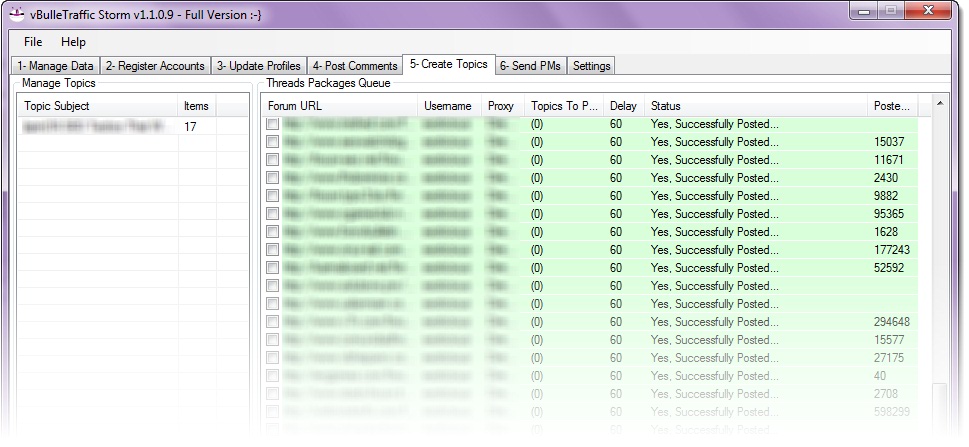 Do you want to get a Free 2 days Trial?
In order to get your Free 2 days Trial key, you need to provide your REAL email. To Download the Trial Version please go to this Download Page. please take note that we take no responsibility if you download the program from any website other than Bots-Labs.Com
Are you ready to Purchase vBulleTraffic Storm?
To Purchase the full license please go to Purchase Page and follow the instructions. Also, Please note that, this software license is considered as Shareware - 2 Days Trial, which means this program allows a free trial period of 2 days from the installation date. This is not a free software. Subject to the author's terms, you are licensed by the author to use this software for evaluation purposes without charge for a period of 2 days. If you use this software after the 2-days evaluation period a registration fee is required. to get 2 days Trial please go to Download Page.
Why Forums in General?
We have discovered that 'ethical' advertising on Forums and Social Networking websites is very effective, and can bring your business to success in simple and easy steps, this can be achieved through manual submissions i.e. creating useful threads, or even posting simple replies those can help the community with something helpful. Doing this will attract other users on that specific board and you 'the poster' will be known as a good contributor on these forums, now people will always trust you and will always try to follow your posted contents, because its useful and helpful. Now doing that manually can take you lots of time, efforts and headaches in order to get to the point where people will start trusting your posted contents. Now imagine what if someone was doing most of this 'helpful' work for you for free? perhaps on multiple Forums and boards? or Maybe on other Platforms such as Social Networking Websites? adding to the account that, this poster is also fast, reliable and he doesn't need to eat, drink or even go to the bathroom. Just imagine how much traffic your website will gain if you were posting 'authentic' posts on say 1000 boards and social websites? It's very hard to count that, but it's not hard to achieve that with our bots. You can bring hundreds and thousands of unique and REAL users to visit and read your website/products contents. Surprisingly, this will increase your website's search engine rankings and therefore, your website's pagerank will be higher and the popularity will be on first page of the search engines such as Google or Bing. This will also bring and attract more and more users to your website/product. Don't hesitate to try out our products. its simple if you don't like them don't buy them.
Are you lost? Do you need any help?
To get familiar with our tools please go to Tutorials Page you will get set of Tutorials Videos will show you how to use the tool properly. If you couldn't get the help you need please Contact our Support with any question you have and we will be glad to assist you.